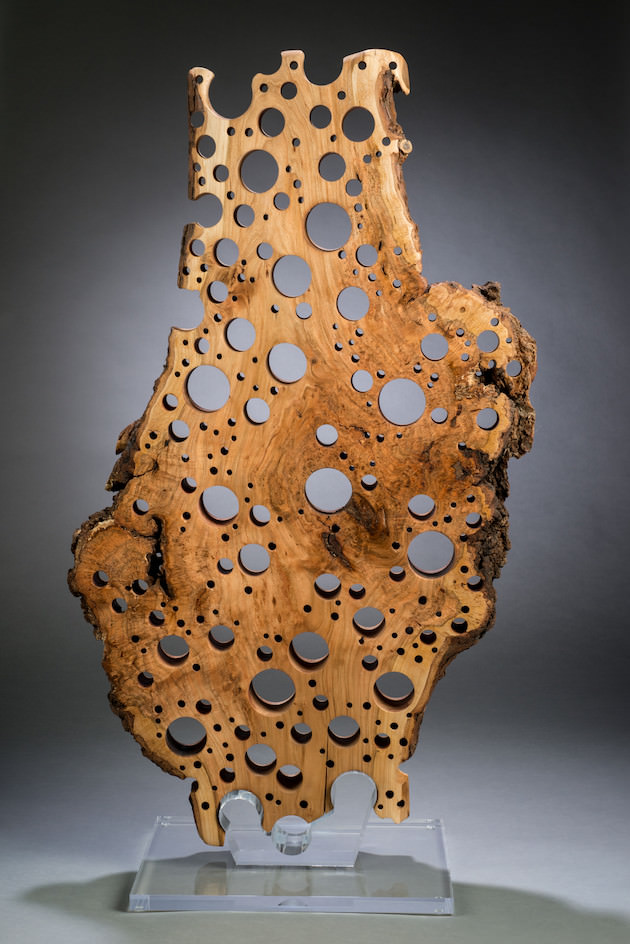 About Cherry Remnant I
The Cherry Remnant is a thick, polished, live-edge, slab of Cherry Hardwood that I have opened up with the inclusion of negative space in the form of holes. The piece of wood, like all the wood pieces I use to create sculptures like this, is very beautiful; so in many ways Mother Nature did most of the work before I got to it. Like in all mu wood works in this vein, one sees the lovely features not only on the flat surfaces of the sculpture, but also within and through the holes, giving lovely depth of these beautiful marks.
Working with all beautiful wood piece is a challenge because I have to find places within the wood that 'permit' the placement of holes. I now love that one can look both at and through this sculpture. My intention is to bring new life into these wood pieces by bringing the sculptures surrounds - the ambient colors, lighting, tones... into the body of the work via the inclusion of the many holes.
The clear acrylic pedestal of this piece is an interesting feature of the sculpture - take a closer look at it.