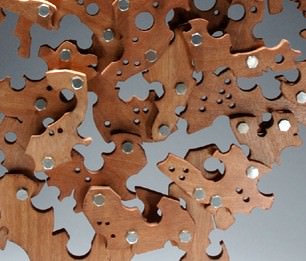 About Woodland Coral
WOODLAND CORAL was the piece that followed my sculpture FOREST DREAM. It is an image and a shape that happily haunts me. It is made of birch plywood that is stained and rests in a steel base.
This piece is more of a departure for me than is immediately obvious. I relinquished some control in making the base and in cutting the wood. My focus was less on perfection than it was on simple feeling and having fun. I do not want to imply that I do not enjoy making pieces that are nearly prefect with very clean lines. It is just damn nice to let go sometimes.
The slots in the base are cut very 'organically' while the cuts in the wood are a bit textured and rough. Still, the piece is very clean - that's just the way I roll.