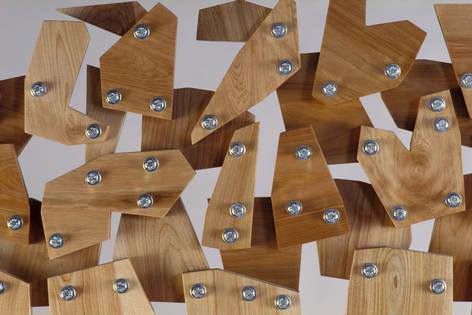 About Birch Wall
BIRCH WALL is set in what was to be the original base of CHERRY WALL. After a considerable amount of work getting that base to about 60% completion, I had decided that working on the thick steel was too difficult and attained a different piece of steel to produce the base for CHERRY WALL. The unused, unfinished base sat in my studio for some time until I decided to complete the original six-slot pattern I'd originally intended. Once it was completed, BIRCH WALL literally 'grew' out of it.
The work is made up of birch wood plates, which at the base are rectangles approximately 5 inches by 8 inches in size. The plate shapes and sizes increase in irregularity as they ascend. They are bolted to each other and to the base with stainless steel tap bolts. The base is an MC 8 x 18.7 steel channel with six 1-inch by 6-inch slots cut into it.
Being my second WALL, my feelings were more organic, a bit erratic, and, surprisingly, relaxed throughout its construction in comparison with those I'd experienced during the construction of CHERRY WALL. I do not know if this sculpture ascends into chaos or descends into order. Perhaps what appears to be chaos is actually the serene part of the work and, perhaps, the portion which depicts apparent order is that which is maddening?