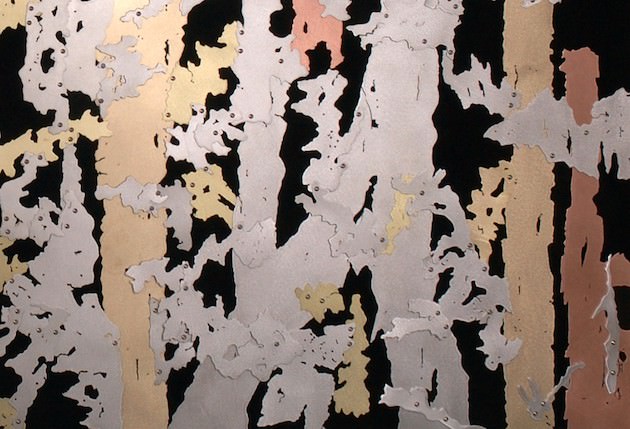 About Forest Density
FOREST DENSITY is a 5-foot by 10-foot wall hanging made of aluminum, brass, copper and steel. The frame is aluminum angle, surrounding organic shapes of aluminum, brass and copper. The 'framed' metal has been distress-cut with a plasma torch and sanded. All pieces have been bolted to each other and to the frame with #10 stainless steel button head bolts.
This piece is the second step in the progression that began with FOREST SILHOUETTE. I did not necessarily intend it to be a forest motif. I basically made the large frame and let my subconscious fill it in at a rapid pace. As the forms and patterns evolved, it would appear that my subconscious was drifting through some sort of primeval, wooded world - it usually is.
Throughout the construction of FOREST DENSITY the central and most powerful element for me was the very apparent off-center, large, empty space - the least 'dense' region. This negative space evoked a trail or passageway for me. Whether it is a natural path toward some destiny, or a clearing being made and imposing a fate upon the landscape and those who inhabit it, I am not certain.