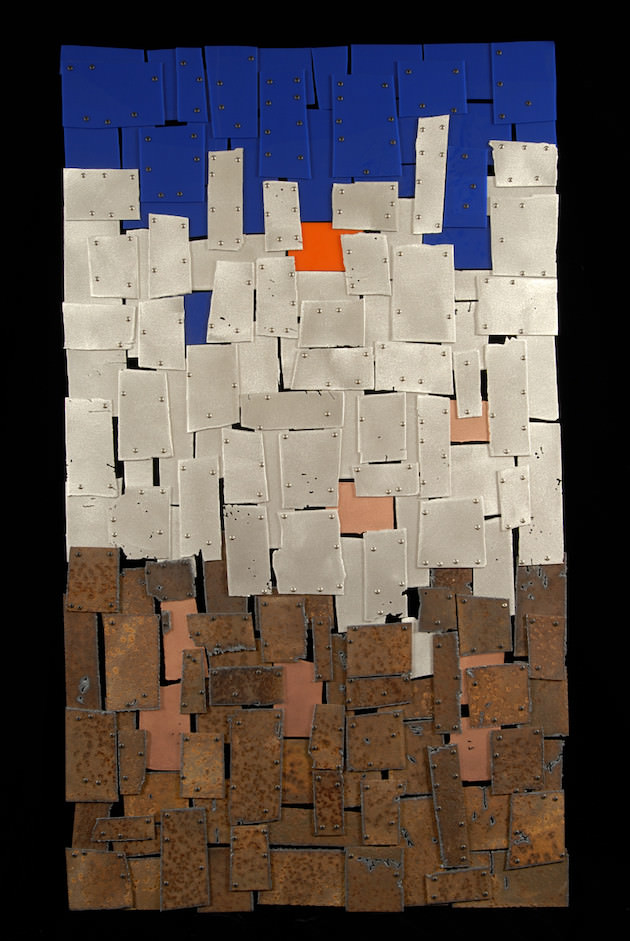 About My Blue Heaven
MY BLUE HEAVEN is a wall hanging of approximately 53 inches by 31 inches in size. It is constructed of torch-cut rusted steel, copper and aluminum plate, and hand-cut Lucite. Stainless steel and alloy steel bolts hold the work together.
This is basically a landscape interpretation with a bit of yearning tossed in for good measure. It was made with steel in its rusted, degraded state – a state of closeness to the earth at its depths. I used the much lighter, smooth and fluid Lucite at the top. The work ascends from the earth or descends from the heavens. Despite the fact that the 'blue' in this work actually occupies a fairly small amount of space, for me, the sky is the destination within it. The sky is always just as much a part of my destination and my journey as the physical, earthly geological, and natural realities around me. I run, walk, swim... simply move toward the sky – always. I am constantly feeling my presence within and beneath the sky. It is almost always the largest part of my personal landscape experience, despite not being 'land'.
I created this piece as I went, with very little forethought and without sketches. I just had the materials I wanted to use. Actually, I typically work without sketches or plans, but with this piece the process somehow seemed strange. The work simply evolved, with the song 'My Blue Heaven' in my head.
Until it sells, it will be hanging in my home.