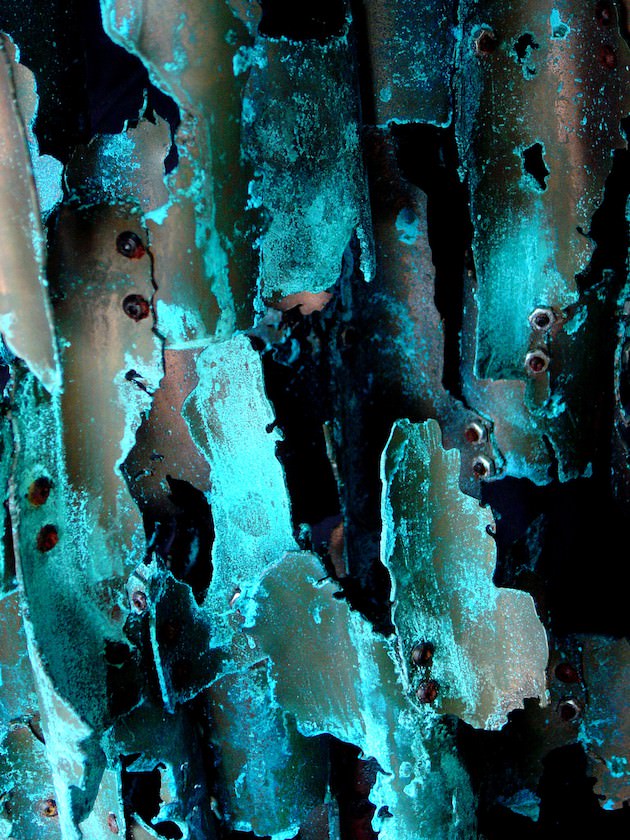 About Sunken Cathedral
SUNKEN CATHEDRAL is a construction of torch-cut copper pipes that have been polished and bolted together and then treated with a mysterious chemical that induces corrosion in a lovely way. The result was a brilliant blue, crystalline patina occurring irregularly over its surfaces. SUNKEN CATHEDRAL is approximately 16 inches wide and 30 inches tall.
This work is a further dive into the sultry hidden within the random. It is also a jaunt into the man-made and its evolution through de-evolution – how our creations take on an entirely new beauty, form and mood through their neglect and surrender to nature and time.
I must admit that I was prepared to have the work sand blasted and have all of the patina removed only a few days before it was to be first displayed. It was not easy for me to accept the level of freedom I had given to this piece by allowing the patina to evolve on its own. Add to that the fact that the corrosive nature of the patina process rusted many of the bolts and you can see how a fairy neat, bolt-obsessed engineer (and mild control freak) such as myself might be driven cuckoo at the prospect of releasing this out into the world.
SUNKEN CATHEDRAL is a shrine to the beauty that can accompany abandonment and surrender on many levels.