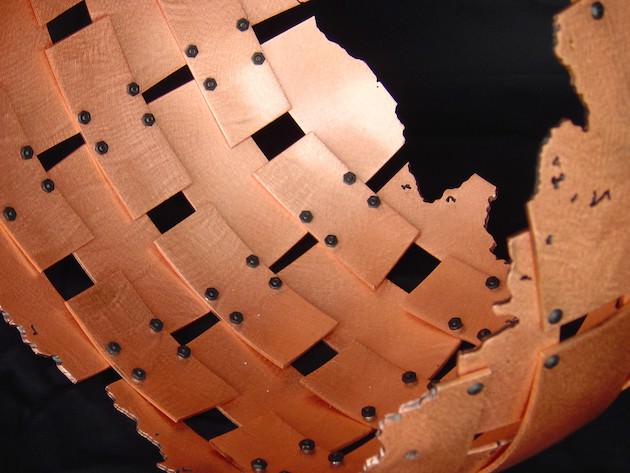 About Copper Homage
COPPER HOMAGE is a very personal work for me, and I struggled with a name for it.
It is a bridge between my very first steel sculpture and the first sculptures I made when I returned to the studio after taking several years off from art to begin my engineering career. It also combines elements of my earliest curved, plated pieces, THRUST and WEEPING PHOENIX, with those of my first organic sculptures like THE CRUCIBLE and ELDER.
While being a piece that, in essence, completes a creative and spiritual circle with regard to certain aspects of my work, it is also a modified recreation of my very first steel sculpture. That piece is responsible for much of my creative world and was tragically stolen from the steel studio at the University of Maryland almost immediately after completion. It has never been seen since and, sadly, it had not been photographed before it was taken.
The original sculpture was basically the same shape as this new creation, but nearly twice as large and forged from a single piece of 1/8-inch steel plate. It was perfect and could balance on a nail – I know because I tried it. At that point, I fancied myself a bit of a 'smith' and, years later, I began the plated, tangent-line curves of THRUST and WEEPING PHOENIX only because I did not have access to a forge to construct them in the original fashion. From that time on, I had worked in fragments and did not use forging as a process in my sculpture until my pieces THE CRUCIBLE and ELDER – and now this piece.
COPPER HOMAGE is constructed of mechanically- and torch-cut copper plate that was polished, cold forged, and then bolted together with alloy steel button-head fasteners.