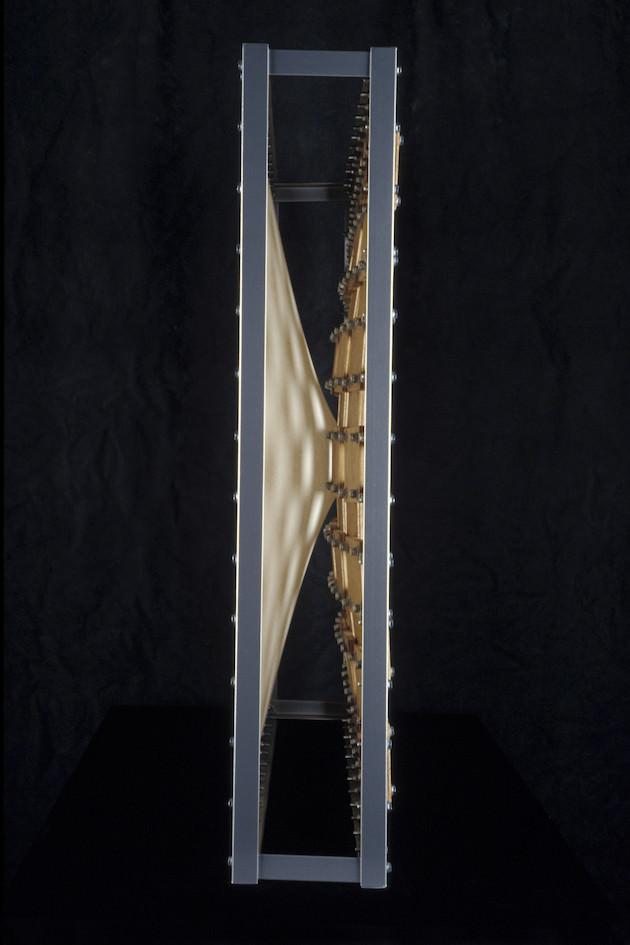 About Encounter
ENCOUNTER came to me in a vision so powerful it nearly caused me to lose my balance.
The vision occurred at the end of a beautiful evening celebrating the birthday of a very close friend. After we said goodnight to each other and I began my short walk home, I had taken no more then ten steps when the shape of what is now this sculpture appeared before my eyes. It hovered in front of me, slowly turning for a few moments. It seemed so real; I thought I could touch it.
I brought the vision to life as a steel frame constructed of welded, powder-coated angle iron which is approximately 3-1/2 feet by 3-1/2 feet by 8 inches in size (this is about the size it appeared to me). The two intersecting planes are made of canvas and small, square birch wood plates. The birch pieces are bolted together and both planes are bolted to the steel frame. The planes intersect and overlap at the center.
The tension and beauty of this piece captures, in some way, the love and tension that can exist between two people, between two ideas or ideals. It is a static dance of two very different, yet somehow similar, realities whose intentions and energies are somehow shared and influence each other in many ways. The look, feel and flavor of the piece is always changing depending upon the light and angle from which it is viewed; however, it never actually changes. While all things must change and evolve, some things should endure – at least we hope.