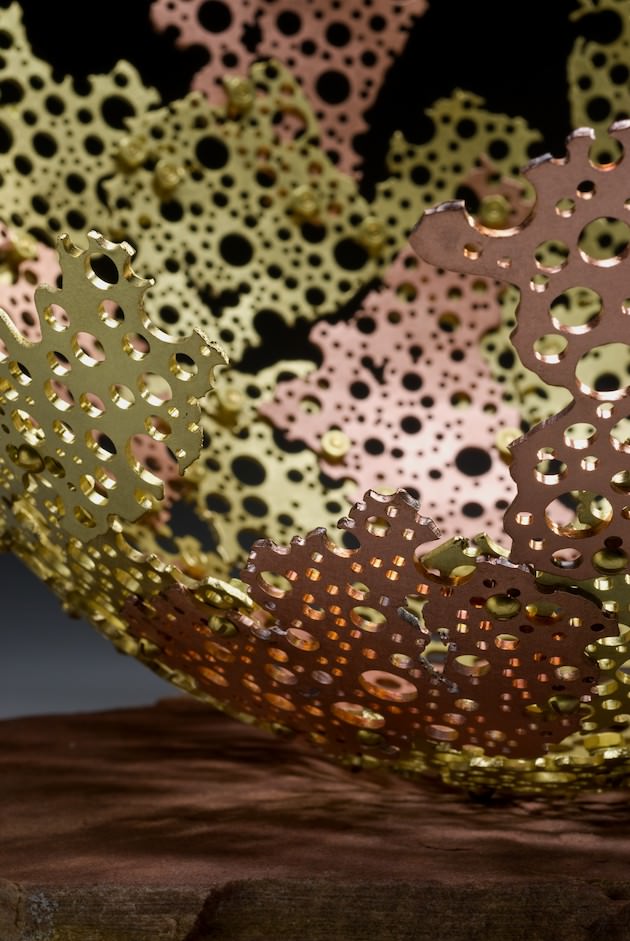 About Until Early May
This work was inspired, in large part, by a documentary about one of the greatest living rock climbers. In one sequence of the film, he and his crew were climbing in an unspeakably beautiful and wonderfully-remote location in Central America - an area so uniquely beautiful that the climbers were reluctant to leave even after they had run out of food.
The rock formations I saw in those video sequences sent me straight to the studio the next morning to begin making new sculptures. This piece is the first fully-realized sculpture of that effort.
This piece is constructed of brass and copper plates which have been drilled, torch cut, polished, hand forged, and then connected via brass fasteners. The base is red sandstone which was inspired by the canyons of Zion National Park. During the final phases of making this sculpture, I was planning a trip to Zion and its geography and geology were on my mind.
I returned from my trip to Zion in early May and decide to title the work UNTIL EARLY MAY. I had set that place in time as a sort of deadline for the emotional completion of the work. As the canyons had been a large part of my psyche at the time I was making the sculpture, it seemed only right.