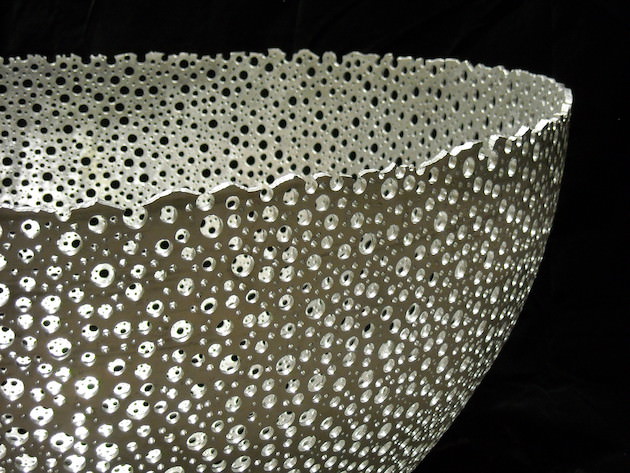 About Millennia
MILLENNIA is a large, aluminum, hemispherical shell pierced with thousand of hand-drilled holes. Yes, I drilled all of these holes myself, and yes, it almost drove me mad. The hemisphere is 36-inches in diameter, 18-inches deep, and 1/4-inch thick. I consider this a seminal sculpture for me. With it I have thrown my mind deeply into the forum of 'perfect erosion' and pushed my obsession with light, shadow, reflection and dimensionality in a new way.
When I completed MILLENNIA I began to shake. I was beholding something the likes of which I had never seen, something I found exceedingly beautiful, and I considered it beautiful beyond me. I honestly felt I had pulled something out of another dimension and into this reality - the thoughts that go along with that are strange.
In June 2009, the James Renwick Alliance of the Smithsonian American Art Museum and the Renwick Gallery awarded MILLENNIA the 'Award for Excellence in Metal Craft'.