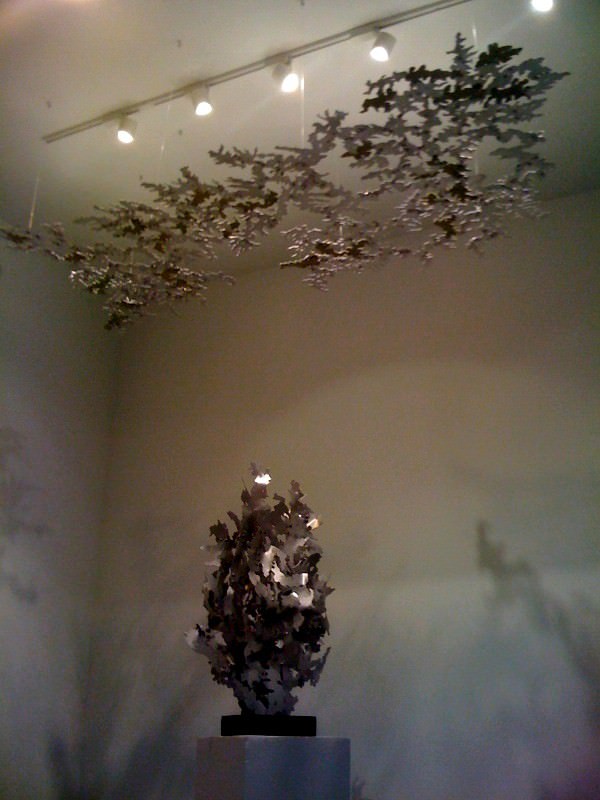 About Organic Canopy #1
ORGANIC CANOPY #1 marked the beginning of my ceiling-hung sculptural works. The first 'canopy' I made in 2004 was a rectangular aluminum matrix similar to much of the work I had been creating at the time. While ORGANIC CANOPY #1 is certainly an evolution of that piece, I do see it as a bit more than that, as it is really with this sculpture that the idea of relatively flat, suspended sculpture came to a boil in my mind.
In 2007, a well-known political figure hired an architect with whom I worked as a structural engineer to design a new home in the Virginia suburbs of Washington, DC. I did the structural engineering design for this lovely home and, in the course of that process, the idea of hanging a piece of my artwork based upon my earlier wall sculpture 'Forest Silhouette' came to be discussed. In the end, another artist whose work the client collected was chosen and the piece was not commissioned. Nonetheless, I did decide to create that piece more or less as I had envisioned it; however, as I worked on it, the idea of it being a ceiling-hung sculpture began to grow in my mind.
ORGANIC CANOPY #1 was first hung in a group show in Washington, DC in the autumn of 2009 to some fanfare. It was the seed of a new area of creative sculptural thinking for me. It is made of aluminum and thin pieces of stained wood. All shapes were hand cut and are irregular in shape. Because of the materials used, this sculpture is extremely light, weighing less than 20 pounds. It is also easily hung.