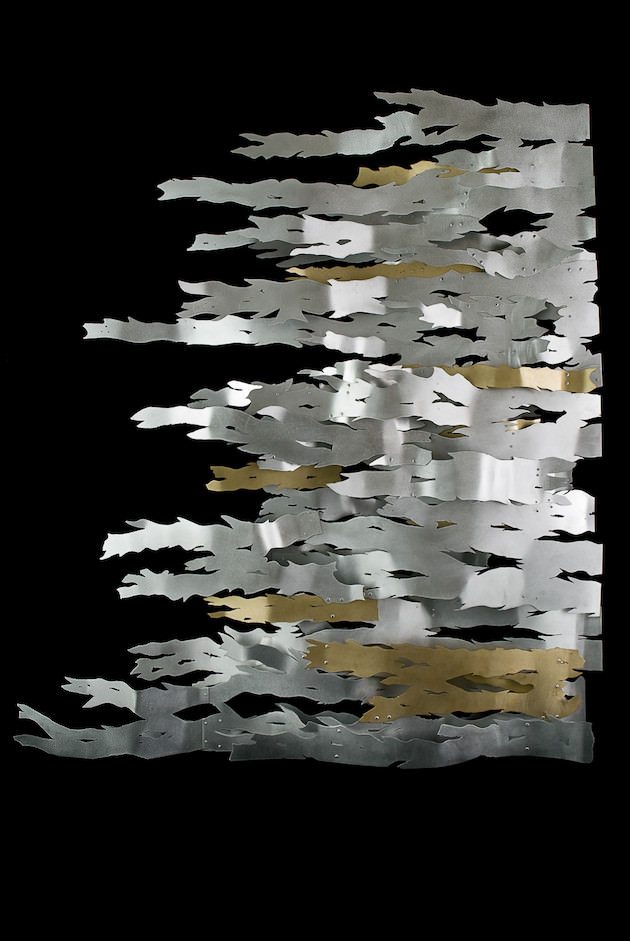 About Construction of Flow
CONSTRUCTION OF FLOW is a 72" tall, 75" long and 12" deep sculpture that is a study in motion and flow. Its inspiration comes from those ideas in numerous forums: dance, wind, water, thought...
Its triggering inspiration came from my beautiful and good friend Dalia Carella - a wonderful professional dancer whose troupe, The Dalia Carella Dance Collective, is New York City-based. I was in NYC seeing a show of hers when the idea for this piece came to me. There was some exquisite veil-work steeped in countless sensually-artistic movements which caused me to actually cut my trip short. I left the next day to get back to my studio and, with all due haste, began working on this sculpture. I actually created this sculpture with unprecedented speed (for me), finishing it in less then a week. If art is pain, then this sculpture is proof. I lost count of how many times I cut myself in my obsessive creation of this work. I wish that process had been captured on video, as I would send the dance of its creation to Dalia.
The work is constructed of aluminum and brass. All pieces were torch-cut and formed by hand. The connections are riveted. This is the first major work I have completed using rivets rather than bolts.
I constructed this as an outdoor work, although I love seeing it in a clean interior space.