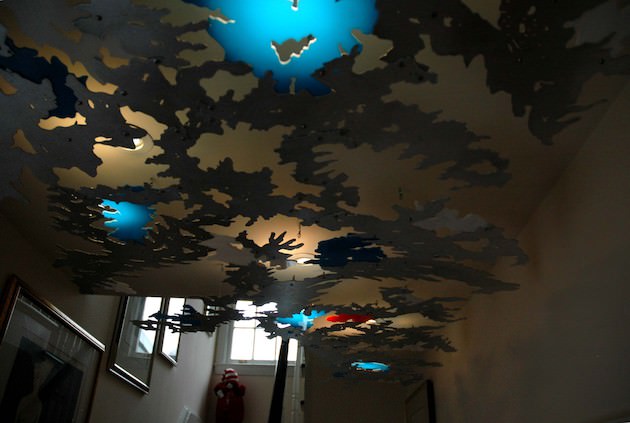 About Rebecca's Canopy
This is a sculptural ceiling canopy that was custom designed for an art collector in Washington, DC. The overall shape of the piece and its colors were chosen to fit both the space and the client. The lighting was also changed in the entry foyer of the house to accomodate this sculpture.
REBECCA'S CANOPY is made of aluminum and colored Plexiglas, and is hung from the ceiling in the home's entry foyer. The entire sculpture weighs only about 10 to 15 pounds and I was actually able to hang it myself. The ceiling lights were strategically placed to concentrate light through the Plexiglas, and the Plexiglas elements below each light rotate freely about a single pivot point to provide easy access for changing light bulbs. I see my canopies primarily as abstractions of tree canopies; however, others have seen them as many different things. Among my favorite alternate interpretations are abstractions of smoke and of oceanic elements, such as seaweed floating upon the waves, as seen from beneath the water.
I love making ceiling pieces and plan to make many more. The variations and evolutions of such pieces will prove interesting. Of these pieces I will also say that I prefer to do them as site-specific installations. I feel that they are most interesting when they are designed around a specific space with all of the considerations that have to be made regarding that space.